Who needs even more presents anyway?
If you have a special occasion coming up, asking for donations instead of gifts is an inspiring way for family and friends to mark the event whilst also helping preschool deaf children learn to listen and talk.
The best wedding present I ever bought. Thank you for helping beautiful Jonathan.
This is the perfect alternative gift for any celebration you have in mind - baby shower, birthday, wedding / civil partnership, anniversary or retirement.
Or you could decide to call a Christmas present amnesty amongst family and friends and make donations instead.
How to set up a donation page
There are two platforms you can use to set up a donation page linked to a special celebration:
Setting up a JustGiving page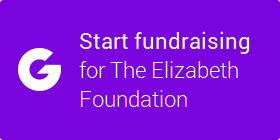 The quickest way to set up a JustGiving fundraising page is to click on this 'Start fundraising' button.
Alternatively, you can:
Go to our page https://www.justgiving.com/elizabethfoundation
Click the 'Fundraise for us' button.
You will then be asked to log-in or sign-up to JustGiving.
Click on 'Celebrating an Occasion' and then provide the details of your celebration and create your page.
Once you have set up your fundraising page, share it with all your family and friends by email and/or social media.
Facebook Fundraiser
If you are a Facebook user you can up a Facebook Fundraising event to support our work – it is quick and easy to do and you can then share with all of your family and friends online. To set up a Facebook Fundraising page:
Go to our page https://www.facebook.com/elizabethfoundation
Click on 'Fundraisers' in the menu.
Then click on the blue "Raise Money" button and follow the steps (entering fundraising goal and end date) to set up your fundraiser.
Once you have set up your fundraiser, share it with all your family and friends on Facebook.