Exciting challenges at home and abroad
We offer a wide range of exciting challenges through a range of partner companies both in the UK and further afield. You can tackle an adrenaline-filled activity such as abseiling or zip-wiring - or you can take on something a bit more gruelling with one of our challenges - find out more below!
Charity challenges
We offer a wide range of exciting charity challenges including:
Skydives: Take on the challenge of freefalling from either 10,000 or 15,000 ft reaching speeds of up to 120mph on a Tandem Skydive with our trusted partner GoSkydive! If you raise the  the minimum sponsorship you get to jump for FREE! Contact our Fundraising Team today on

[email protected]

or call 02392 372735 to check availability and register your interest.
UK and overseas treks: Can you #GoTheDistanceForDeafness? If you've ever wanted to climb Kilimanjaro or trek the Sahara, there is a challenge for everyone with a range of outdoor based treks, rides and even dog sledding with our partner Charity Challenge. If you prefer to stay closer to home, why not hike the South West Coastal Path or trek Ben Nevis in the beautiful Scottish Highlands? Check out the available challenges on our dedicated Charity Challenge page.
Cycle rides: Ranging in distance from a northern Coast to Coast ride in the UK all the way through to London to Paris or further afield on an exotic ride through Saigon to Angkor you can choose from a variety of cycling challenges for all levels of fitness through our partner Charity Challenge. Check out the full range of available rides on our dedicated Charity Challenge page.
For more details about any of these challenges, or to look at the full range of overseas activities we offer through Charity Challenge, either email [email protected] or visit the Charity Challenge website.
Raising money through sponsorship
To make the challenge even more worthwhile - and to motivate you during your training and during the event - you can ask your friends, family and colleagues to sponsor you to raise money to help young deaf children learn to listen and speak.
It is quick and simple to set up an online sponsorship page with JustGiving - and there's no need for you to chase your sponsors after the event to collect your money, and they even reclaim Gift Aid on our behalf to make each donation go even further.
Of course, you can still use paper sponsorship forms alongside - or even instead of - an online page. If you'd like us to provide paper sponsorship forms tailored to your event, please contact us and we'll be happy to help.
How to set up a JustGiving page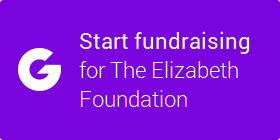 The quickest way to set up a JustGiving fundraising page is to click on this 'Start fundraising' button.
Alternatively, you can:
Go to our page https://www.justgiving.com/elizabethfoundation
Click the 'Fundraise for us' button.
You will then be asked to log-in or sign-up to JustGiving.
Click on 'Taking part in an event' and then provide the details of your event and create your page.
Once you have set up your sponsorship page, share it with all your family and friends by email and/or social media.
Skydiving for The Elizabeth Foundation